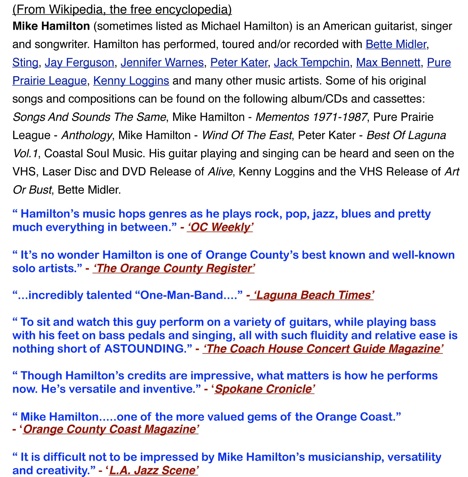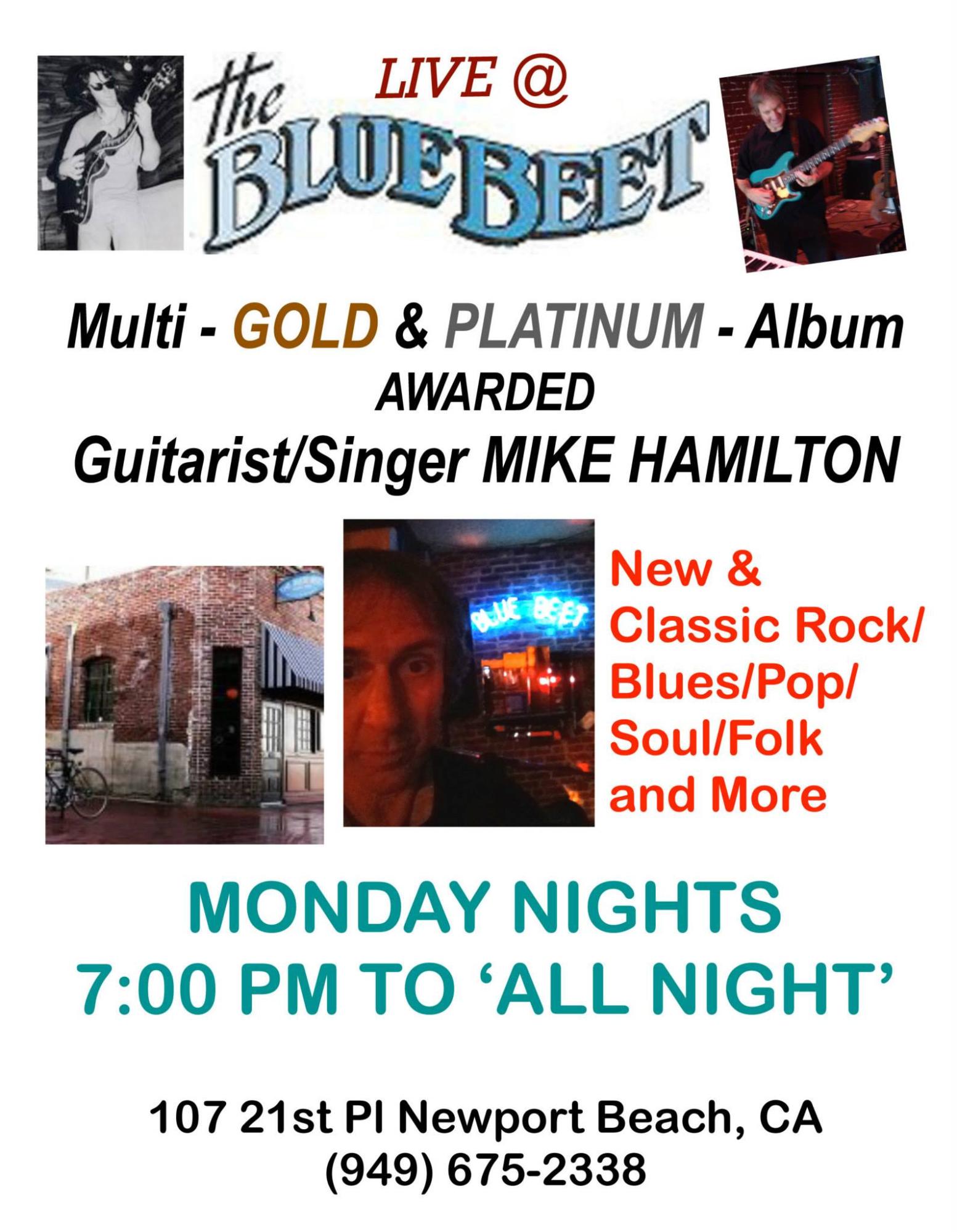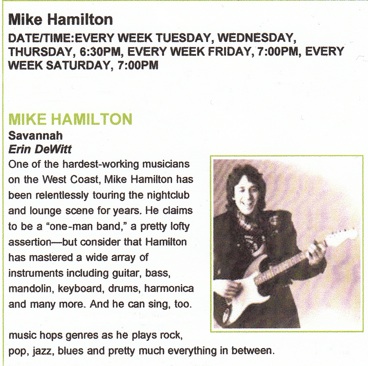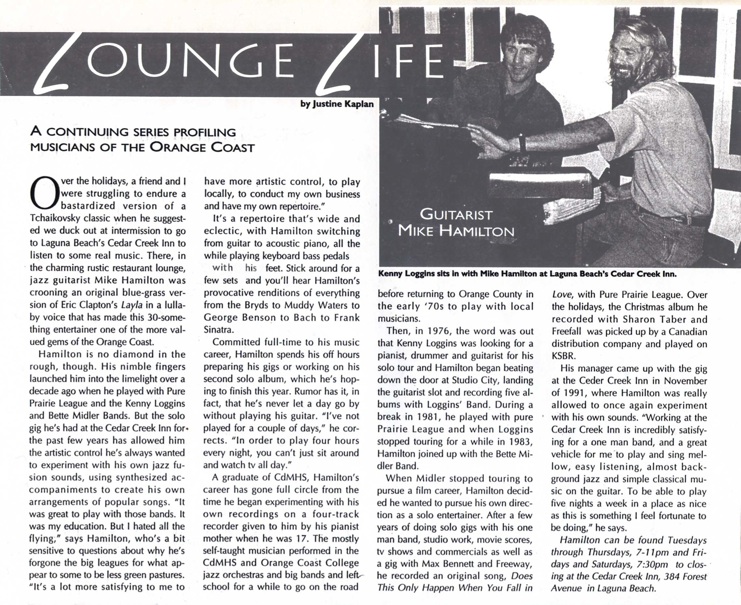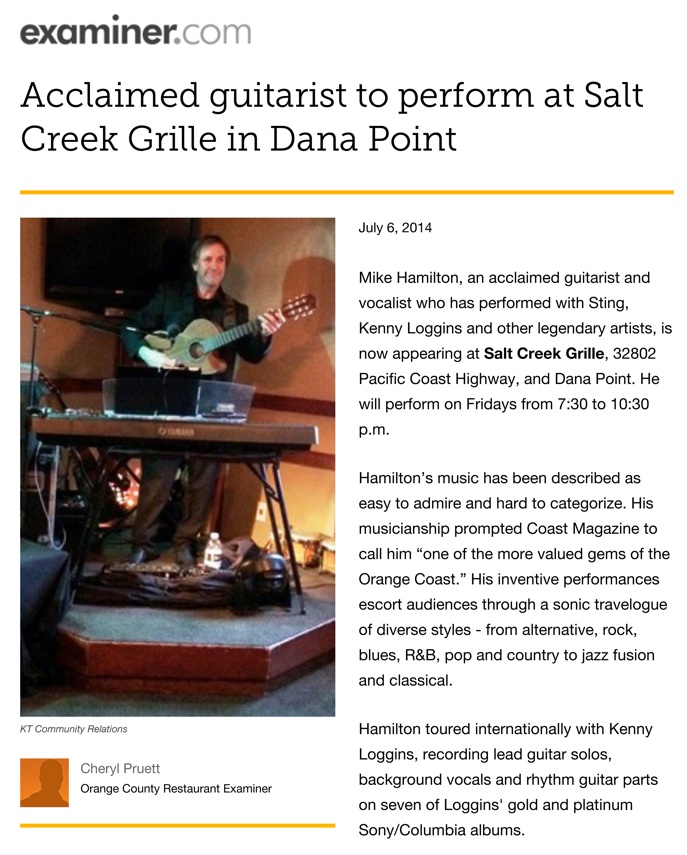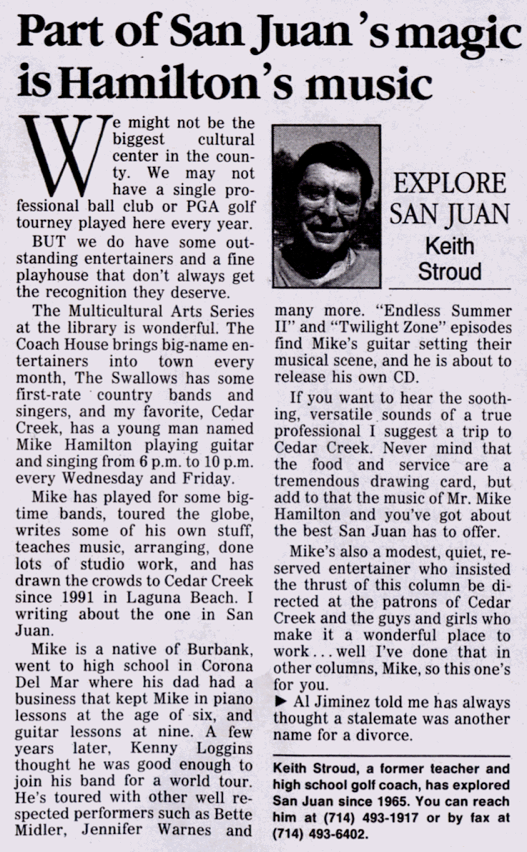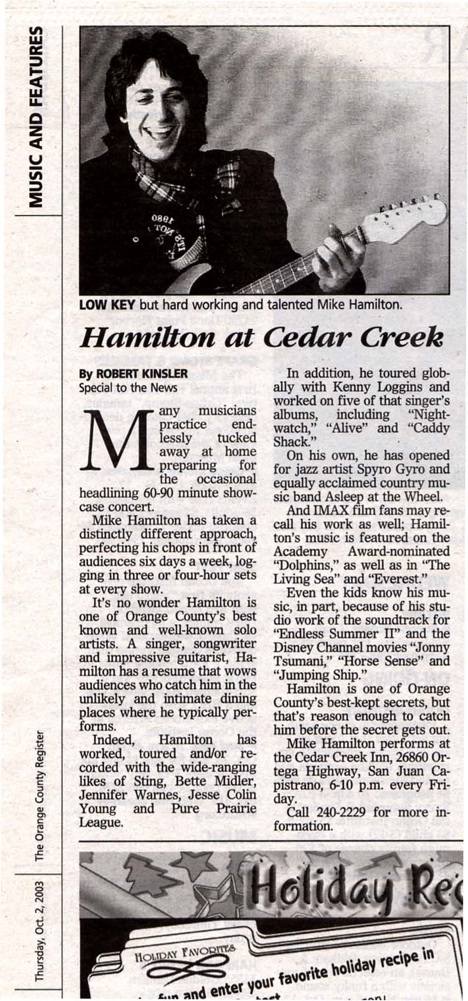 Guitarist/Vocalist/Keyboardist/Entertainer Mike Hamilton delivers a repertoire so vast and varied, it's no surprise he's one of the steadiest-performing solo artists on the nightclub circuit. Easy to admire and hard to categorize, Hamilton's inspired musicianship prompted Orange County COAST Magazine to call him "one of the more valued gems of the Orange Coast."
A Southern California native, Hamilton is a consummate guitarist, vocalist, multi-instrumentalist and composer.
His inventive performances escort audiences through a sonic travelogue of diverse styles - from alternative, rock'n'roll, blues, R&B, pop and country - to jazz fusion, jazz standards and classical.
Switching from electric, nylon & steel string acoustic and synthesizer guitars to piano, Mike plays with instinctive fluidity and versatility, enhanced by his own smooth vocals.
Within this framework, he simultaneously plays keyboard-bass pedals for additional harmonic and rhythmic variations.
No stranger to the spotlight, Hamilton has performed, toured and/or recorded with Jay Ferguson, Sting, Peter Kater, Bette Midler, Jack Tempchin, Michael Steele (of the Bangles), Jennifer Warnes, Steve Wood, Phil Marshall,
Mick Fleetwood, Jesse Colin Young, Gary Wright, Mario Frangoulis, Andrej Sifrer, Daniel May, Neil Larsen, jazz-bassist/composer Max Bennett, Rick Roberts (of Firefall), Bob Stewart, and Pure Prairie League - with whom he performed several of his own original songs.
He also toured internationally with Kenny Loggins, recording lead guitar solos, background vocals and rhythm guitar parts on seven of Ken's gold and platinum Sony/Columbia albums: "Nightwatch" (which included the hit "Whenever I Call You Friend" with Stevie Nicks), "Keep the Fire"("This Is It" with Michael McDonald), "Alive," "Caddyshack"(I'm Alright), "High Adventure"("Don't Fight It"with Steve Perry and Neil Giraldo on which Mike played the bass guitar and "Heart to Heart"), "The Essential Kenny Loggins" and "Yesterday, Today, Tomorrow - The Greatest Hits of Kenny Loggins".